The Cisco Certified Network Associate (CCNA) certification is one of the most known IT certifications on the market. 29.10.2021 I passed the certification exam on my first try after a long and grueling study period.
This was my first IT certification, and the experience changed the way I think about taking certifications, and the way I approach learning IT skills in general.
In this article, I will tell the story about my CCNA journey and what resources I used to study. But more importantly, I will tell what I think other students can benefit to learn about from my experience.
Why CCNA?
Why I choose to persue the CCNA certification
When I started on the Network course at the Network and Information Security program at Noroff, I decided that I wanted to pursue a network certification parallel to the course. My motivation for taking a networking certification was mainly to have something a bit more relatable than a school grade to show for. In addition, the thought of a recognized IT certification was an extra incentive to do well in my studies.
After doing some research it was clear to me that there was really just one entry-level networking certification that was valued in Norway, and that was the Cisco CCNA.

The networking course at Noroff roughly followed the then recently discontinued CCENT (Cisco Certified Entry Networking Technician) certification. This certification used to be a required prerequisite before taking the CCNA certification. Since there was a huge overlap between the old CCENT certification and the new CCNA certification, I decided it was natural to aim for the CCNA certification since it matched the Noroff course as well.

Before I decided to pursue the CCNA certification I considered the CompTIA Network+ as my first networking certification. After watching a lot of videos on YouTube I considered it to be a good beginner networking certification. But in the end, the worldwide recognition of the CCNA and the overlap with the Noroff networking course convinced me to pursue the CCNA certification in favor of the CompTIA Network+ certification.
Previous knowledge
What networking experience I had before the CCNA
Before starting to study for the CCNA certification I had only limited networking knowledge. I had been pulling network cables in my parent's house, fitting RJ45 connectors on Cat-6 cables, using unmanaged switches, and messing with NAT settings on routers as a teenager. Except for that and some basic experience with Wi-Fi settings, terminating cables on patch panes and wall outlets in my house, I had little to no knowledge about networking. I barely knew the difference between a router and a switch.
Before I started to study for the CCNA certification I had been a part-time cyber security student for one year, learning about general IT stuff like filesystems, Linux, and Windows servers. In my ignorance, I believed networking was very simple.
Associate-level
What I learned it actually means
To me, the CCNA was a big beast to tackle and I had to learn a lot of new concepts in the process.
The CCNA is classified as an associate-level networking certification. But associate-level certification does not necessarily mean easy. If you do not know a topic covered by the exam you have to learn it. And the CCNA covers a lot of topics.
As with any topic, it's much easier to learn when you can build upon previous knowledge. Therefore I would recommend experience gained from an entry-level certification like the CompTIA Network+ before pursuing the CCNA.
Some things are easy to learn, and others are hard to learn. But once you know something, it can actually be hard to empathize with why it was hard to learn in the first place. Everything is easy if you know and master it!

...my advice is to never listen to anyone who says that any certification is easy or difficult.
It's also important to realize that everyone learns differently and at different speeds. Your background might make it easy to learn one thing, and difficult to learn another thing. Another person might have a different background and therefore have an easier time learning something you struggle with, and they might struggle with something you thought was easy to learn. Because of this, my advice is to never listen to anyone who says that any certification is easy or difficult. It all depends on their own skill level. As I said earlier; Everything is easy if you know it.
As the certification name "Cisco Certified Network Associate" implies; After passing the exam I do feel associated with networking and using Cisco networking equipment. I know a bit about the topic, but I do not consider myself a professional network engineer after passing the certification exam. I'm able to do a lot more networking stuff that helps the company I work at, but what the CCNA really thought me was how much there is to learn about networking, and how little I actually know. This was a humbling experience and a good reality check. Becoming a little bit less ignorant is a good thing in my book.
Timeframe
How long did I study for the CCNA?
I started to study for the CCNA the last week of May 2021. I took the CCNA exam and passed it the last week of October 2021. During that time I only took two weeks off during my summer vacation.
I accumulated approximately 500 hours of study time spanning a total of 20 weeks. That means I spent an average of 25 hours a week studying for the CCNA certification. During the exam week, I took a time off work to fully focus my energy on the final preparation before the exam.
After the exam was finished, I felt a bit burned out and the exam felt a bit anti-climatic. I had basically spent all my spare time after work for half a year studying for the CCNA. And the only thing I got was a low-key message saying "passed" after submitting my final exam answer.
Videos
Video courses I watched
I went through a lot of resources. My main problem was that I had so little knowledge about networking that I had to learn a lot that the CCNA implicitly expected me to know before. Because of this, I did skim through the CompTIA Network+ book and video course by Mike Mayers in addition to the typical CCNA materials.
I watched the CCNA course on ITpro TV and the course by CBT nuggets. I also had access to LinkedIn Learning, so I watched a couple of courses there. I also watched about half a course by David Bombal on Udemy.
The most valuable video course for me personally would have to be the video lessons by Mike Mayers, and the course by CBT nuggets.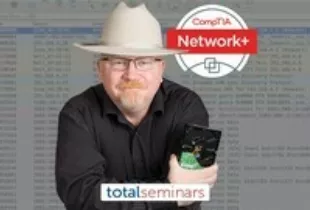 TOTAL: CompTIA Network+ Certification (N10-007)
- Mike Mayers - 23t, 0m
Video course that covers the CompTIA Network+ exam (N10-007).
The course and the certification give fundamental insight into what a network is made up of, and how it functions.

"Mike Mayers gave me a fun experience learning about networking"
Total seminars did it again. Wow, what an excellent introduction to networking. The video lessons gave me an excellent birds-eye view of what computer networking is, and how it's built now and previously in history.
I especially loved the section about subnetting and the differences between a router and a switch.

Even though it was strictly not a CCNA course; Mike Mayers Network+ video course on Udemy was simply put amazing. The way he explains things is nothing short of excellent. It's fun, engaging, and well-suited for complete beginners. This course helped lay the groundwork for everything covered by the CCNA. I cannot recommend this course enough.
I love the way David Bombal teaches on YouTube, but I'm afraid that his video course on Udemy felt more like a class for experienced network engineers that needed to brush up on their skills before they recertify for the CCNA. I had a hard time following his explanations because I lacked the experience and insight that I think was needed to really benefit from the course.
ITPro TV had a boring and unengaging course led by Ronnie Wong. I do think the main problem with this course was the format ITPro TV has on their courses. The CCNA is a very practical certification, and because of this, it failed to fit the talk-show type of setting they provide.

On top of the list of video resources for the CCNA I went through was CBT nuggets' CCNA course. Wow, this was good. Actually, it was amazing! The blend of theory, show-and-tell, and practical assignments that were given to me as a student was excellent. It was a bit pricy, but in my opinion, it's well worth the investment.
There is a lot of reading material out there that covers the CCNA. But I was pleasantly surprised that the official cert guide provided by Cisco Press was excellent. I have actually never read any learning material that was so well written and organized as these two books. In addition, I used the "31 days before your CCNA exam", book in addition to the "CCNA portable command guide" by Cisco press during the last month of preparation before the exam.
To fill in some of the blanks I did read parts of the excellent "CompTIA Network+ all-in-one" book by Mike Mayers.
I do think it's important to read the cert guide for this exam because you truly have to understand the concepts covered by the exam to pass it. A lot of the questions require a deep understanding of the topics to be able to eliminate incorrect answers on the exam.
The way I structured my reading was to take on one "part" of the cert guide books every week. Every part consisted of several chapters that made a total of about 100 pages that I read every week. Each chapter started with some questions that I used to test my understanding of the topic covered in that chapter. If the answers were not clear to me, I read that part of the chapter again until I had a good understanding of the topic and was able to easily answer the questions.
The last month was a repetition month for me. I think this was very valuable because I was starting to forget a lot of the stuff I learned in the beginning. I also discovered that some of the things I thought I had learned, I had actually misunderstood.
Labs
How i practiced the CCNA skills
To pass the CCNA exam you have to be confident about configuring Cisco switches and routers. Because of this, you will need to get hands-on experience with Cisco equipment.
I personally like to get my hands dirty on actual hardware before I start using virtualization solutions. Because of this, I ended up purchasing a couple of real-life cisco routers, a couple of managed Cisco switches, and a terminal server to make make it easier to switch between the devices while I play with them.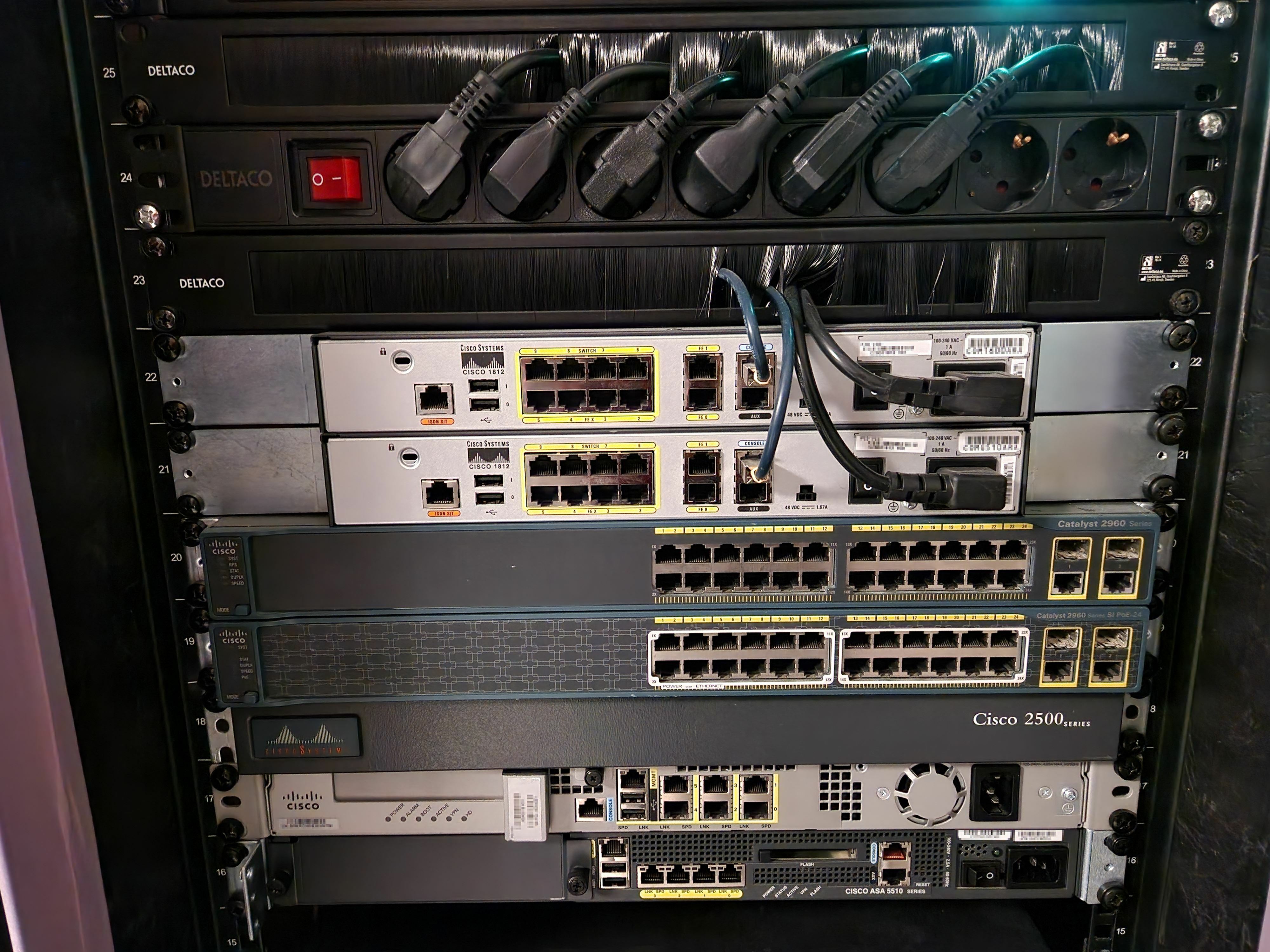 My very own networking lab. - Image © Stanley Skarshaug
After spending some time connecting to switches using console cables and RS323 adapter, fiddling with rack mounting, and connecting cables I had gotten the feel for the equipment in a way that my mind was able to appreciate and more easily make use of the excellent and free emulation platform "Cisco Packet Tracer".
I did spend a lot of time configuring virtual switches and routers to build networks in Packet Tracer while I was learning about the concepts and commands covered in the cert guide.
In addition to fiddling with the physical equipment I had purchased and the virtual equipment in Packet Tracer, I purchased a license for Bonson NetSim.
Boson NetSim was a very important learning tool for me. This platform provided me with pre-connected, and partially configured labs, that I had to finish the configuration on. The tasks were varied and very educational. The task varied from fixing misconfiguration to applying some sort of new configuration that was needed. The tasks made me apply what I had learned in various ways, and I saved precious study time from having to connect the virtual equipment before I had to configure them. That way I could focus on the configuration problem I was presented with.
Since subnetting and understanding the IPv4 addressing classes is a big part of the CCNA I build a couple of web-based study tools to help me learn binary numbers and to be quick about subnetting. In addition, I made a tool to help me memorize the most common port numbers, and what services are associated with them. Check out the links below to access them yourself!
Service 2 Port
Service 2 Port
A simple tool to help memorizing what ports are associated with what service on a server.
Prefix 2 Netmask
Prefix 2 Netmask
Another study tool to drill conversion of network masks to prefixes. With this tool you can drill on spesific network class, or on any class. If your binary number reading is weak, this will help a lot.
My advice
What i wish i knew before taking the exam
Aside from learning a lot about Cisco network equipment, and computer networking in general, I think the most valuable lesson I got from taking the CCNA was about learning to be honest with myself about my own skill level and to stop comparing myself and the way I learn to anyone else. Learning something is truly not a race against anyone else than yourself. I learned that my mind is wired in a way that I struggle to memorize things by method of brute force memory stuffing. For me, it's better to try to understand something than to try to memorize it. Trying to learn to mutch at once can make it harder for me to retain what I'm trying to learn.
I also got a solid reminder that it's important to learn to walk before trying to run. Because of this, I think it's a shame that Cisco discontinued the CCENT certification. The CCENT would have made the path towards the CCNA a lot more pleasant and enjoyable. To take on the CCNA certification without any previous networking knowledge (like I did) is not something I would advise anyone else to do. I do look back at my own journey and realize that I was figuratively speaking learning to run at the same time as I was learning to walk. This is both ineffective and hard.
The CCNA is classified as an entry-level networking certification, and I do agree with that classification. But I do not under any circumstance consider it an entry-level IT certification. I experienced that the CCNA requires a lot of prerequisite knowledge that certifications like the CompTIA Network+can provide. I also think it's beneficial to have some general IT knowledge that an entry-level Linux and Windows course could provide to have even more dots to connect the new skills to.

Because of this, I would recommend taking the CompTIA Network+ certification before starting to study for the CCNA certification. Perhaps even the CompTIA A+ certification to learn the basics and fundamentals of IT. To skip the fundamentals is only to do yourself a disservice. It's a lot easier to build upon something you already know something about than it is to jump with both feet into a huge certification like the CCNA without any previous knowledge.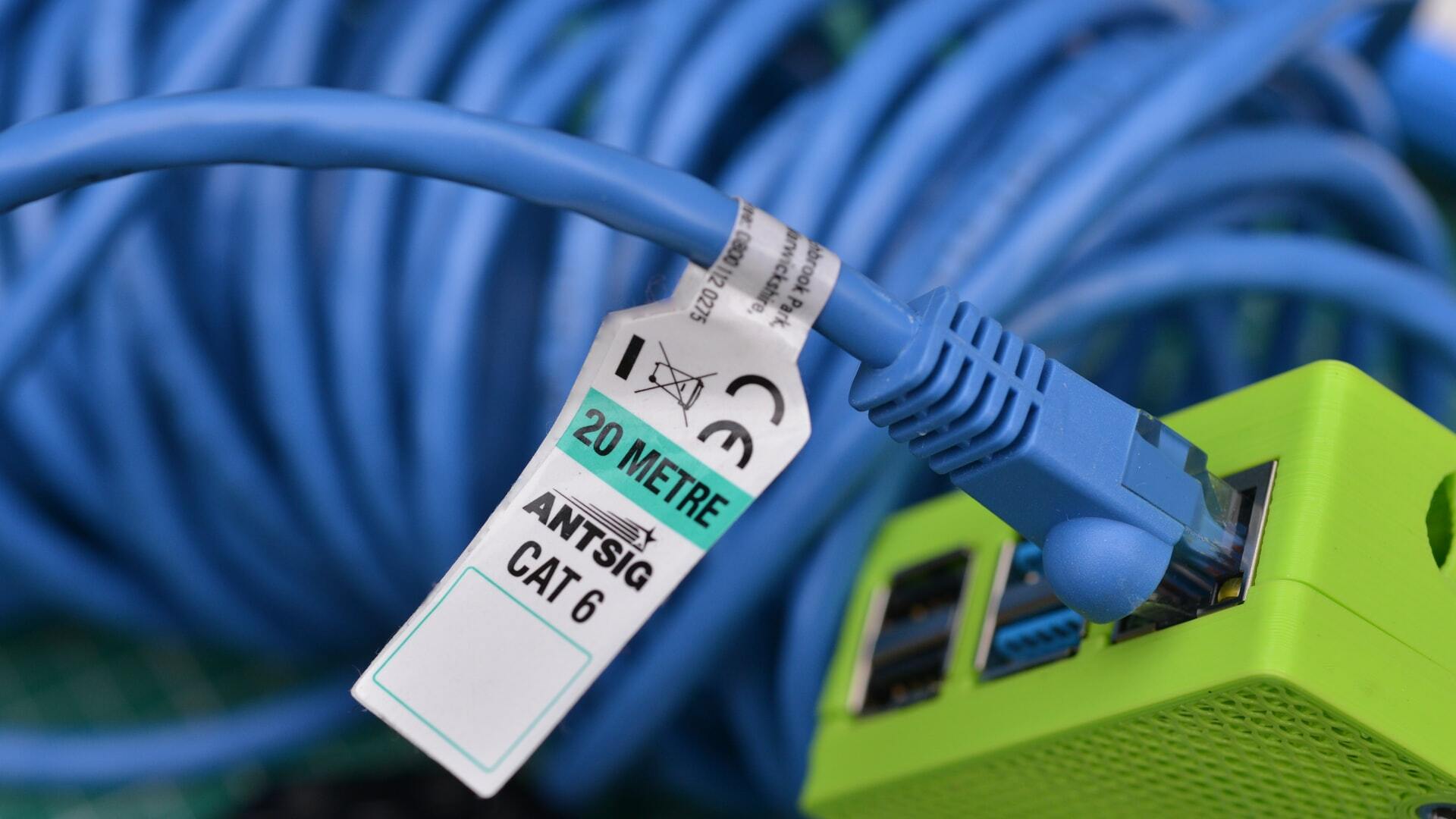 Photo by Gavin Allanwood on Unsplash
I did also realize that the goal of any certification is not really the certification itself, but rather the skills acquired while studying for the certification. The certification is a measurable achievement, but the actual result of the certification should be the knowledge gained from pursuing the certification.
A certification exam like the CCNA that tests your knowledge with multiple-choice questions can feel like a test of what you remember, and not what you can do. If the number of new things you had to remember for an exam is too high, the chance of mental fatigue and failure is higher. To make the learning process as fun and painless as possible when it comes to any certification exam like this, I have one simple piece of advice. I would advise anyone to start with basic certifications, then gradually take more advanced certifications.

I try to remind myself that Rome was not built in one day, and to focus on the journey and what I want to learn, instead of comparing myself to others.
For my personal IT journey, I will from now on take my time to really learn stuff one step at a time. The CCNA certification taught me to value many small steps instead of a few large ones. I no longer feel the need to rush toward advanced certifications even though I do have a few certifications I want to pursue. I try to remind myself that Rome was not built in one day, and to focus on the journey and what I want to learn, instead of comparing myself to others.
Time is always an issue when it comes to learning, but I think it's better to be really skilled in topics covered by certifications, rather than focusing on gaining a lot of certifications. I believe you get compensated for what you know, can perform, and therefore what value you bring to an organization. Not what type of certification you have and what school you went to. Because of this, I consider certifications to be a tool to structure your learning.