The Norwegian .no domain name registry, Norid has a primitive but efficient EPP client to handle domain registration and management. One thing Norid does lack is good customer support.
In this article, I will try to explain how you can add a new nameserver to your account via the web EPP client provided by Norid.
The problem
Trying to add a new nameserver to a domain
When managing multiple domains as a registrant, you sometimes need to change to a different nameserver provider on a domain. One example is using a WAF (Web Application Firewall) and/or reverse proxy for load balancing or a CDN (Content Delivery Network) like Cloudflare.
When trying to change to the nameserver provided by Cloudflare you might get an error message like this: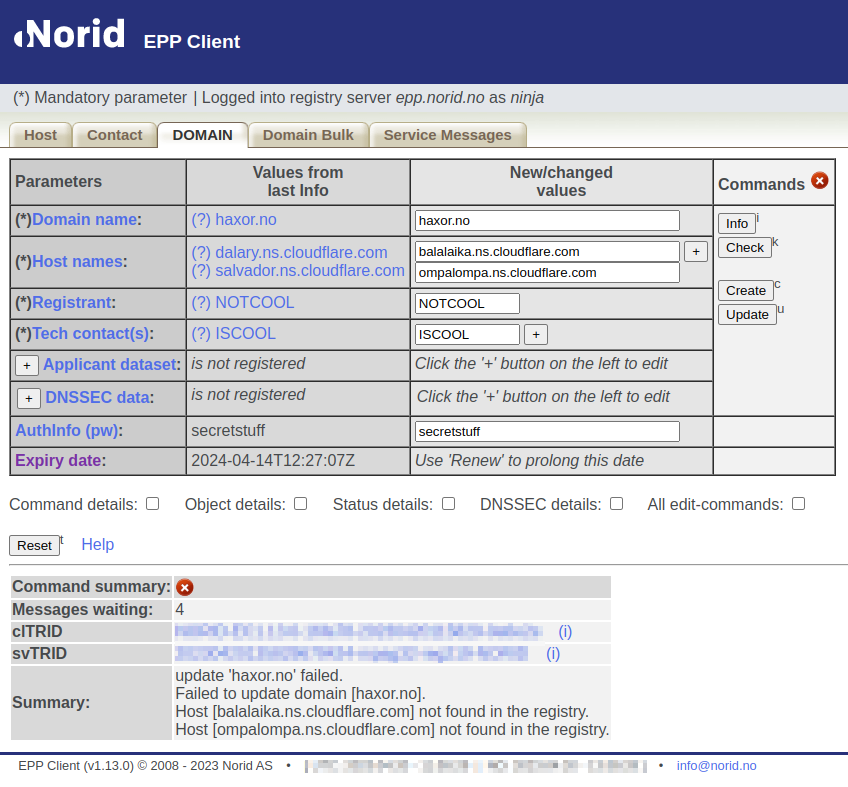 Norid EPP client showing error message when trying to add a new nameserver
error from EPP client
update 'haxor.no' failed.
Failed to update domain [haxor.no].
Host [balalaika.ns.cloudvlare.com] not found in registry
Host [ompalompa.ns.cloudflare.com] not found in registry.
The cryptic error message is trying to tell you that the nameserver is not registered as a host on your EPP client account.
The solution
How to add nameservers in the EPP client
To add a new nameserver, you must add a new host. This is done by accessing the "host" tab inside the EPP client. From here you can simply add the hostnames you want to use.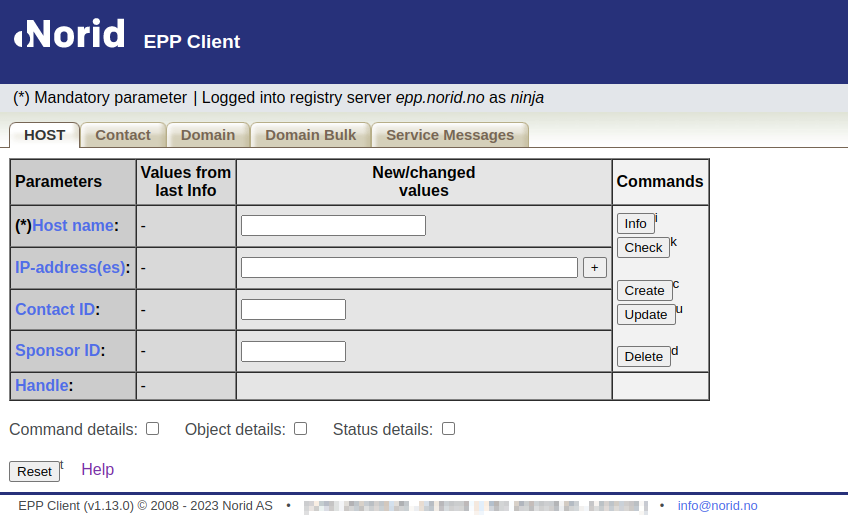 The host tab in the Norid EPP client
To add a new nameserver host, you only need to provide the hostname. As a Cloudflare example, blalaika.ns.cloudflare.com can be entered. The rest of the fields can be left blank. Click "Create" to add the host.
Once the hosts you need are added, you can easily use them as nameservers on your domain 🎉