The Cisco CyberOps Associate certification is an associate-level certification, just like the CCNA (Cisco Certified Network Associate). In other words, it is meant as a cert to validate skills and insight needed to be productive in an entry-level role within Cyber Security.
In this article, I will tell about my journey toward the certification, what I think about the certification, and what recommendations I would give others who consider studying for and taking the certification exam.
Why CyberOps?
Why I choose to persue the certification
The main reason for choosing the Cisco CyberOps Associate certification was that I wanted to verify my basic security knowledge with a certification from a respected vendor. For me a good grade at school is great, but having a certification is better, even though I think HR, recruiters, and most clients have a better understanding of formal education at colleges and universities.
After reading a lot online I found that the Cisco CyberOps Associate certification covered a similar curriculum as the CompTIA CySA+. Which places it at a higher skill level than the CompTIA Security+ certification. After attempting, and failing the CompTIA Linux+ certification, I got issues with the way CompTIA asks its exam questions. In my opinion, CompTIA exams focus on memorizing insignificant details, such as program options/flags instead of how to do things, and how things function. I wanted to verify my understanding and knowledge, not how hard I worked on memorizing insignificant details before an exam. In real life, you know what you want to do, but you use the man pages or -h/--help option to get a reminder of what options/flags to use. Memorizing program options/flags has little real-world value.
As a bonus, I was able to renew my CCNA certification by passing another associate-level certification from Cisco.
Previous knowledge
What relevant experience I had before studying for cert.
Before starting to study for the Cisco CyberOps Associate certification I had passed the CCNA and had been working daily with Linux servers hosting websites and other services. I had also been using Ubuntu Linux as my daily OS, and working as a full-stack web developer for about 3 years. I had also studied for, but not taken the CompTIA Security+ certification. I was also fortunate enough to work in an organization that had security as a focus. So a lot of the things covered by the certification felt relevant for real-world application.

Associate-level
What it means from my point of view
After passing the CyberOps Associate certification I felt in no way, shape, or form ready to work full-time as a security professional. But I did feel that I got a solid foundation for further, and deeper studies, and it felt a lot more advanced that the entry-level CompTIA Security+ certification.
This certification felt solid and covered an extensive part of basic Cyber Security. But, just like the CCNA it did not verify that I had professional-level knowledge or long experience with the concepts and topics covered by the certification.
Unlike the CCNA, this certification did not focus on practical configuration on Cisco devices at all. With very few exceptions it was very vendor-neutral. Every topic was theory-based and gave me very few practical, hands-on skills I could apply at work. I think the certification did an excellent job of ensuring that I had a working knowledge of most of the concepts and theories you would expect from an lv.1 SOC analyst or a person with a security focus in an organization.
Timeframe
How long did I study for the certification?
I read one chapter for the official cert guide each week, and I spend a couple of weeks filling my knowledge gaps after reading the book. This made me spend about 18 weeks studying for the Cisco CyberOps Associate certification. I could have spent a lot less time, but I fear that would have caused me to struggle more with retaining the knowledge. For me, the certificate was a nice end goal to validate the knowledge gained, but the knowledge gained from studying for the certification was what I wanted to gain the most.
Videos
Video courses I watched
I watched a lot of videos on LinkedIn Learning, and the entire Cisco CyberOps Associate course by CBT Nuggets during my last exam cram to repeat the information. I think especially CBT Nuggets provided excellent explanations of all the topics covered by the certification. Some of the concepts can be a bit boring and hard to learn. So having several people tell about the same concept in different ways, really helped me.
I read the official cert guide for the Cisco CyberOps Associate certification. Just like the CCNA cert guide, this was well-written, easy to understand, and perhaps most importantly: not boring to read. I read it from cover to cover and learned a lot from it. I think this book was an excellent aid in helping me learn the material.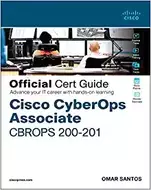 Cisco CyberOps Associate CBROPS 200-201 Official Cert Guide
Omar Santos - 688 sider
The official certification guidebook for the Cisco CyberOps associate certification.
"You could really tell that the author loved to teach, and loved to make the reader understand"
In typical cisco press fashion, this was an excellent book that was easy to read, and easy to understand. You could really tell that the author loved to teach, and loved to make the reader understand. Every topic was very well written, but in many ways expected a CompTIA Security+ and Network+ level of understanding of many of the concepts.
I read through the book once, and felt fairly ready for the certification, after doing some test certifications to spot my weak spots.
30. January 2023
My advice
What i wish i knew before taking the exam
I'm very happy I took the time to study for but did not take the CompTIA Security+ certification before starting to study for the Cisco CyberOps Associate certification. The information covered by Security+ certification was assumed as previous knowledge during most of the material covered in both the Official cert guide and the video material I watched.

I think a CompTIA Network+ level of networking is required before starting to study for this exam. The study material I watched and read did not spend time explaining anything related to networking. There was some overlap between the security concepts covered by the CCNA and the Cisco CyberOps associate that really helped me. Especially when it comes to truly understanding what is going on in each layer of the OSI model.
In addition, a novice level of experience with Linux is assumed. Without a solid understanding of how Linux distributions operate and function you will struggle to understand and comprehend many of the concepts covered by this certification. I do think a CompTIA Linux+ level of understanding and experience helps, but as stated earlier in this article I do not think the certification exam from CompTIA tested me on how well I understood Linux.

Having hands-on experience is key to learning the material covered by the certification, and having worked with tools such as Snort, NMAP, and Wireshark is essential. Spending some time in all the blue-team-oriented learning paths on TryHackMe helped me connect a lot of the dots.
Summary
Ok, what is the key takeaway?
I studied for this cert while working full-time as a web developer and part-time participating in the Network and Information Security program at Noroff vocational college in Norway. The class I was taking at Noroff was equivalent to the old CCNA Security class. This was a big help because there was a huge overlap between that class and this certification.
I think this certification came at the perfect time in my IT journey. Some of the harder-to-understand-before-you-see-it concepts surrounding practical network and system administrations and programming were starting to sink in for me. In addition, I had accumulated some experience with situations where we both had, and lacked security solutions, procedures, and tools where I worked. All this made this certification feel relevant and made me appreciate even more the skills needed to work as both a blue teamer and a red teamer.
The exam was hard, but it felt fair. Cisco managed to make me feel like I knew and really understood what I had studied in preparation for the exam.
I don't know how recognized the Cisco CyberOps Associate certification is in Norway and the rest of the world, but I do know that it's not even close to the recognition as the CompTIA Security+ or the SSCP has. I think it was a great experience and a really big stepping stone on my security journey.
By passing this certification exam I felt that my knowledge about the basics and general concepts of cyber security was validated. This made me confident and ready to shift my focus towards more specific parts of cyber security.