At the beginning of 2023, I have been a VR enthusiast for about 5 years. It all started with radio-controlled FPV racing drones that I flew with Fatshark HMDs (Head-mounted Displays) using analog video links. This made me want to try out VR gaming, especially flight simulators.
I jumped in at the end of the first "real" VR generation with the HTC Vive Pro, and now I have my fifth VR HMD, the Varjo Aero.
In this article, I will talk about the ups and downs I have experienced throughout the first three VR generations, and what I think the future of VR looks like.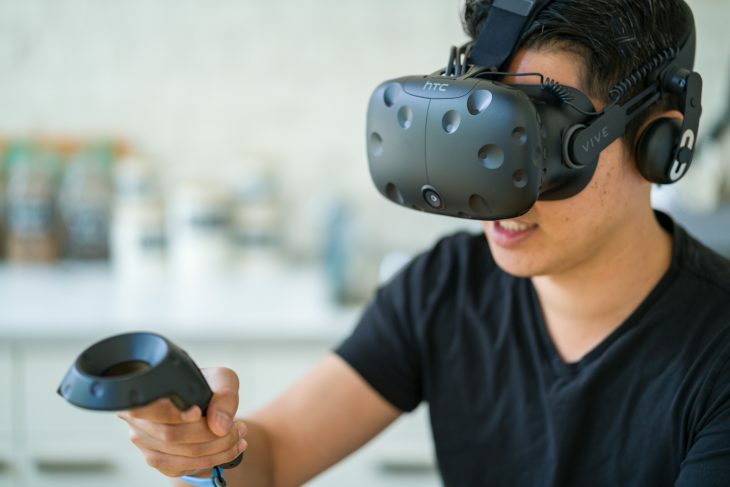 Image by HTC
Gen. 1 - Functionality
HTC Vive, Oculus Rift
With the launch of Oculus Rift in 2012, the world of computer games was forever changed. Now VR gaming was an actual reality that PC enthusiasts could enjoy. I remember reading a lot about it but quickly dismissed it as too expensive and hard to configure. A couple of friends of mine got the Oculus Rift and said it was fun, but they complained about the lack of games that they enjoyed playing on it. So I just thought about it as a fun little thing that might become hot one day...
In 2018, I did spend a lot of time flying FPV racing drones and hooking the FPV HMD up to my computer to play FPV racing simulators like Liftoff and Velocidrone. This made me curious about the whole VR thing.
I ended up buying the HTC Vive Pro HMD. Once it arrived I quickly realized that it required lighthouses to use, even when playing sitting. This surprised me because I thought VR was just based on the rotation of the HMD. I did not even know about the effect of stereoscopic vision. In my mind, I thought VR headsets were just like the 2D screen in the Fatshark FPV racing HMDs. After buying a used HTC Vive, I got my hands on the Steam VR base stations and the Vive VR controllers.
When I finally got the base stations mounted to my walls, and started Steam VR for the first time I was utterly blown away. VR was just amazing. It was like I was inside the game. Unfortunately, my computer struggled to keep a steady framerate in my favorite games; War Thunder, and Elite Dangerous. So after about one week of gaming, I bought the best graphics card that was available for VR: The GeForce GTX 1080ti, a new motherboard and CPU. This upgrade was well worth it and enabled me to have a lot of fun in VR.
An important note on the HTC Vive Pro was that the head mount harness was absolutely fantastic to wear. I could wear it for an entire night of playing without any physical discomfort.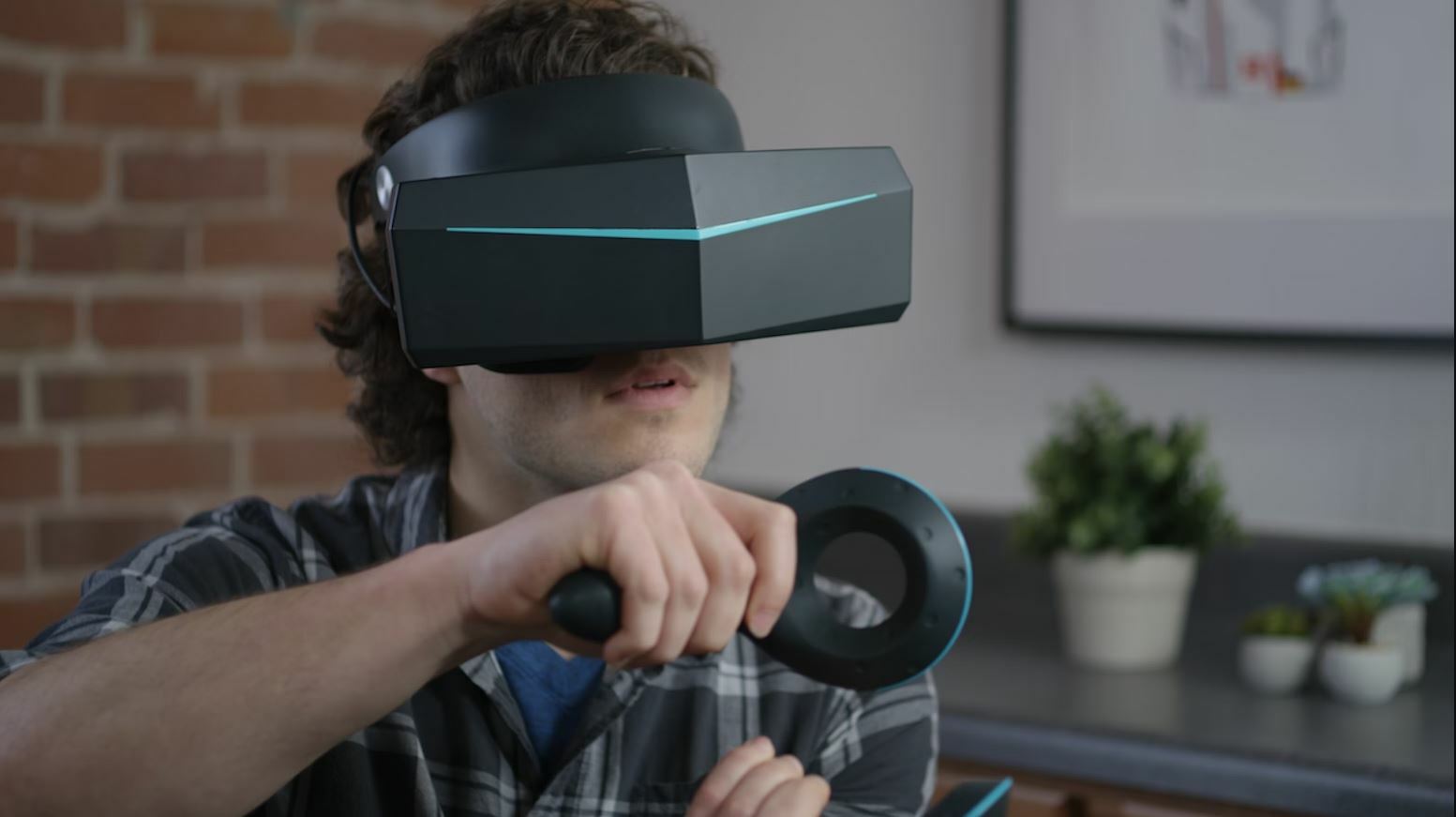 Image by Pimax
Gen. 2 - Ultrawide and hi-res
Pimax 5K XR, Valve Index, HTC Vive Pro 2
In the middle of 2020, I got to a situation where I did not enjoy "regular" video games. If it did not support VR, I did not play it. At the same time, I heard many good things about the new, up-and-coming Chinese brand Pimax, with its ultra-wide displays.
When Pimax finally released an OLED version of their 5K headset, the Pimax 5K XR, I immediately ordered it. When it arrived a couple of weeks later I was very pleased that it worked almost flawlessly with most of my VR games on steam, and the displays had about the same color profile as my HTC Vive pro, but a much wider FoV (Field of View).
Once I tried the large field of view on the Pimax 5K XR, I simply could not go back to my old HTC Vive Pro. It was a total game-changer. I went from looking through a pipe to viewing through a motorcycle helmet.
Because Pimax did not have any good head strap for their HMDs the other enthusiasts on the internet created a mounting kit that made it possible to use the deluxe audio head strap for the original HTC Vive on the Pimax 5K XR and other Pimax HMDs. I ordered the deluxe audio head strap, and 3D printed adapters to make it fit on the HDM. This made the Pimax 5K XR a lot more comfortable to use, but nothing like the amazing comfort of the HTC Vive Pro.
Another issue with the Pimax 5K XR was the small sweet spot. The HMD had to be fitted in an exact position to give me good visuals. And the lens distortion was actually very noticeable even pretty far from the edges of the screens.
When Pimax finally released a proper head strap, I ordered it from China. With some minor modifications, like cutting some plastic, I was able to make it fit very well on my head. It was still not as comfortable as my old HTC Vive Pro, but a lot more comfortable than the Frankenstein solution with the HTC Vive Deluxe Audio strap.
The Pimax gave me a good experience but running two 2.5K screens was a very hard load on my computer. Because of this, I had to reduce the graphics settings on all games I played. And because of the small sweet spot on the HMD, playing games that required a lot of reading, like Elite Dangerous was not as fun anymore.
In late 2021, a VR mod for MechWarrior 5 came out. I was not disappointed. The game looked amazing in VR, but because of poor VR optimization, the game was running at only 40-50 FPS on my poor GTX 1080ti. This made me upgrade my gaming rig for the second time because of VR. I purchased the GeForce RTX 3080 graphics card and decided to future-proof my CPU by going for the AMD Ryzen 9 5950X with 16 cores.

This effectively doubled my framerate and made absolutely every other VR game a blast to play on my Pimax 5K XR.

In 2022, I discovered the fantastic arcade-style flight game Project wingman. But before trying the game on my Pimax 5K XR, I decided to play it on an HTC Vive 1.5 I got from a friend. I fitted the deluxe audio strap to it and realized how good the Vive 1.5 was.
After starting to use the Pimax 5KXR I had become too "wowed" by the huge field of view to notice the reduction in sweet-spot. I realized that the HTC Vive 1.5 with the deluxe audio strap had a much higher comfort level than the Pimax 5K XR, even with the official head strap. And in addition, despite having a much narrower field of view it had a bit less lens distortion, and a much bigger sweet spot for image clarity. As a bonus, the HTC Vive 1.5 had a very convenient connection box that I could use to connect the HMD to my computer without having to climb under my desk to connect it to the computer. This made me realize that for me, personally, visual clarity and comfort level are much more important to me than a large and blurry field of view. Because of this, I stopped using the Pimax 5K XR and continued using the old HTC Vive 1.5.
During the black week of 2022, I purchased the HTC Vive Pro 2, and an RTX 4090 graphics card. The resolution of the Vive Pro 2 was simply amazing. And the RTX 4090 doubled the framerate from the RTX 3080, finally allowing for some amazing game experiences. But the high resolution in the Vive Pro 2 made the clarity sweet spot more prominent than any HMD I had tried. In addition, the headset had a strange problem with the lenses that gave me enormous eye strain after only 30 minutes of use. In comparison, I could use the old HTC Vive Pro and HTC Vive 1.5 for hours without any eye strain. This made me sell the Vive Pro 2 after only a few weeks.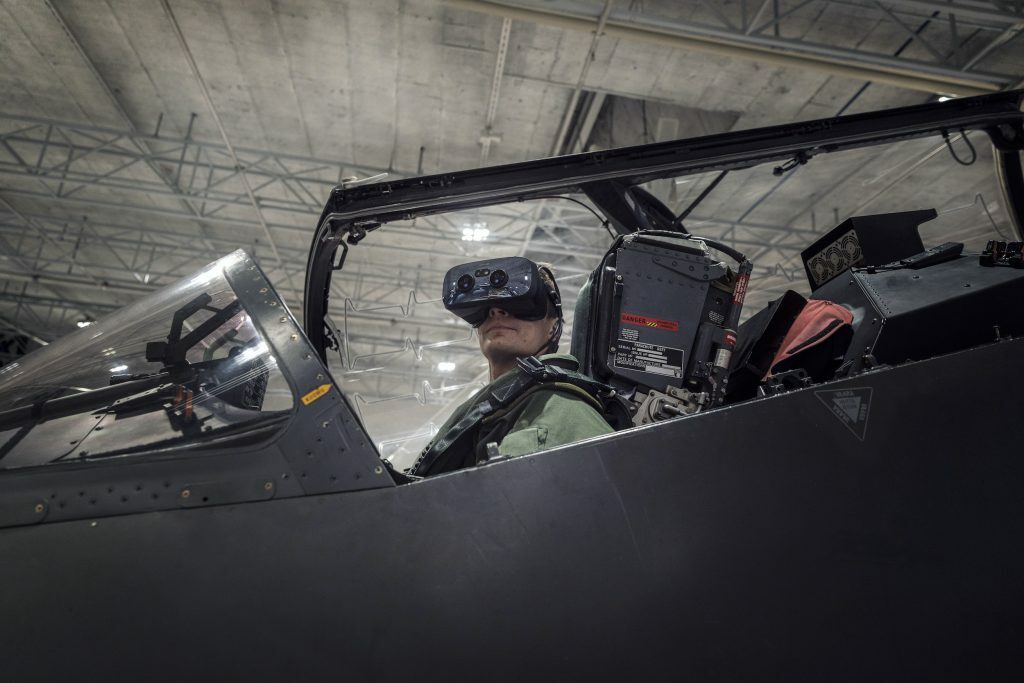 Image by Varjo
Gen. 3 - Clarity
Varjo Aero
In January 2023 I went completely nuts and purchased the prosumer HMD Varjo Aero. This HMD had a similar FOV and colors to the HTC Vive Pro 2, but the same clarity that was present in the sweet spot on the Vive Pro 2, covered the entire view from edge to edge on the Varjo Aero. This gave me by far the best visual experience of any HMD at the time. In addition, I could skip the crappy audio solutions that every HMD has, and finally, use proper audio headsets when gaming without having them bulge over the VR head strap. I personally use the amazing noise-canceling Sony WH-1000XM4 headset in combination with the Varjo Aero.

The Varjo Aero seems like the first HMD after the original HTC Vive that feels optimized and ahead of its time. It's a masterclass in industrial design and an exceptionally well-engineered piece of hardware that feels future-proofed, similar to what the HTC Vive was at the beginning of the first generation.
Everything I ever wished for in a VR headset is present. It has no screen-door effect at all, had fantastic clarity, amazing colors and light levels, eye tracking, automatic IPD adjustment, active cooling of the display, air circulation inside the HMD to prevent fogging, and an incredible comfort level. This is the first VR HMD I could wear for 5-6 hours straight without any eye strain or physical discomfort since the HTC Vive Pro.
I cannot wait for OpenXR to become the norm. This would enable foveated rendering and the use of eye tracking in all games.

I think that in the next couple of years, we will see various companies learn from and try to improve upon the winning formula of the Varjo Aero. Right now the price of the Varjo Aero prevents most people from experiencing the bleeding edge of VR.
Pimax with their new Crystal and Crystal 12K are trying to compete, but as always, Pimax feels like beta test models for VR enthusiasts like myself. I'm so happy with the Varjo Aero that I expect to wait a couple of generations of Graphics cards before I will feel the need to upgrade to a new HMD.
The future of VR looks bright!